Week Commencing November 18th 2019

Market Overview
After the huge moves we saw the week before, many anticipated, if not hoped the same would continue this week as we head into the holiday season. After a $30 drop to close off last week, Gold started to consolidate at the $1446 floor, bouncing to a 5 day high of $1472. On the contrary the consolidation which we saw with Crude last week, turned into rally on Friday, with a breakout on further news of the Saudi Aramco IPO deal. In other news the Bitcoin dropped continues, with it's 10 day of declines reaching $8400, which is a 4 week low.
In currency news, GPUSD once again headed up towards the $1.29 level as strong US retail sales data came out. This also led to a rise of the SP500 crossing over the 3100 level, setting more and more all time highs.
Market Preview
Next week looks set to be the quietest so far in terms of forecasted fundamental data. FOMC on Monday is due to be a big one, as it could be the catalyst to ending or continuing the historic bull run we are currently seeing in US equity and index markets. Many will always pay close attention to Gold o see if the consolidation from this week, could potentially lead to another bull run, which could be the case if the FOMC report shows that economic weakness was the reason for the 0.25% rate cut in October.
3 weeks till the UK election and GBP gaining in strength, markets will likely see what affects this has on the FTSE which suffered a huge drop of almost 100 points on Friday.
Economic Data View
Wednesday: USD FOMC Meeting Minutes (OCT 30)
Thursday: JPY National Consumer Price Index (YoY) (OCT)
Friday: EUR ECB President Lagarde Speaks in Frankfurt
See more
Technical view
XAUUSD – Daily Chart
Every run, bullish or bearish a some point comes to an end, and that's what we saw this week with Gold. After a run which saw the metal fall from $1518 to $1446, this market had some much needed rest, consolidation. Although brief and only for 4 days, the sideways trend which took place at the 33 level RSI which has seemed to be the long term floor in terms of volume, posed the question could this overselling lead to buyers to re-enter? With Gold now back firming in the $1465 floor which has been known for buying, many may also want to look at the Fibonacci indicator to see if this is positioned in either the 38.2% or 50% zones, which may be reasons to anticipate some upcoming longs.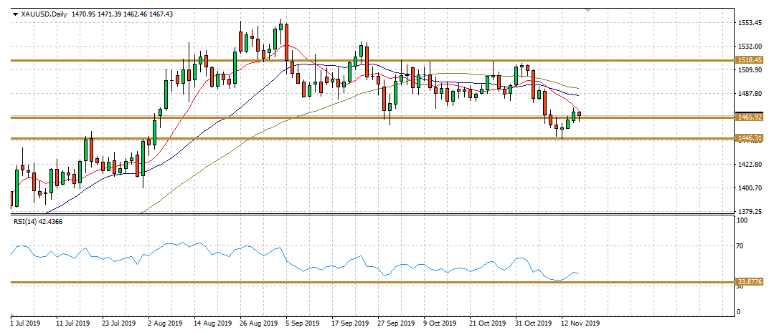 SSP500 – Daily Chart
Record high after record high, when will it stop? Many expected this week to be the week where the consolidation would turn into weakness. However as the week was at an end, that sentiment turned out invalid as we saw huge buying volume leading this index past the 3100 level, nearing a close of 3120. So what is next? This run of Friday mainly led by a stronger than expected US retail sales number, means many will be carefully looking at the next economic announcement as a means to gauge further direction. We don't have to wait long however, as FOMC this Wednesday could provide this guidance. On a technical perspective, all indications still show that yes this is oversold, the momentum of the moving averages should at some stage slow and potentially cross downwards, however as the 2020 election is nears, many see runs as politically charged, so be careful leaning too much to technicals alone.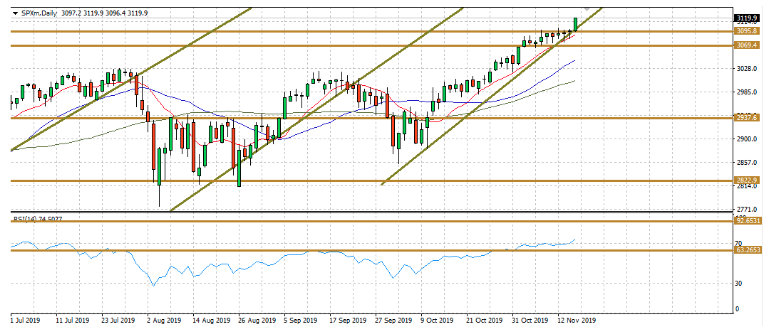 Crudeoil – Daily Chart
The Oil market clearly loves a streak. From the 20% overnight jump on news of attacks in Saudi, to the 30% drop which was to follow immediately after. After such moves a traditional market would usually trade sideways in consolidation, and although it can be argued that's what we have seen in Crude, the consolidation was done in a way which created higher highs. This essentially created an ascending triangle which led us to the $57 resistance, however as we got the news that the Saudi Aramco deal was valued at $1.7trillion, we saw a run which lead to that resistance being partially broken on Friday. Now heading into the $58 mark, we see that buying volumes are still low, at 56 on the RSI, with many bulls seeing the target of 67/70 as the level to resist further longs. Monday will be interesting to see if this was a false break, or if in fact we could continue upwards towards the $60 mark.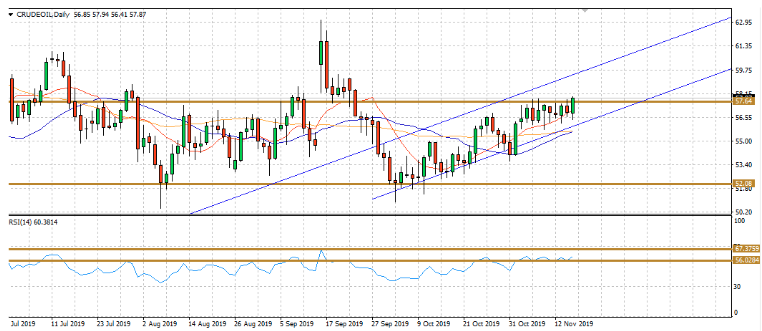 Charts analysed and narrated by Eliman Dambell – edambell@tvmarkets.com
Adam Saward & Eliman Dambell
Tradeview LTD
1 St Katherine's Way
London
E1W 1UN
Direct: 0203 2392987