Markets rally as Non-farm payrolls beat expectations
Markets were trading with volatility on Friday, following the news that Non-farm payrolls rose by more than expected.
Figures from the Labor Department showed that 467,000 were added to the U.S. economy last month, versus expectations for a 150,00 increase.
This came as a surprise to markets, which initially thought the labor market was slowing following the omicron variant.
source:
tradingeconomics.com
However, revision in recent jobs figures show that 510,000 jobs were added in December, versus the 199,000 originally reported.
November's number was also revised and showed a gain of 647,000 from the 249,000 initially stated.
The NASDAQ was 1.58% higher on the news, with gold moving from a low of $1,792.10, to a high of $1,815.80.
Amazon up 13.5%, following strong Q4 earnings
After falling in yesterday's session, as a result of the decline in Meta stock, Amazon rebounded big on Friday.
Friday's rally came following the company's Q4 earnings, which blew expectations out of the water.
The company reported that it recorded earnings of $27.75 per share, versus expectation of $3.77.
This saw revenue rise to $137.41 billion from the same period last year, however fell slightly short of the $137.82 expected.
Despite this, the better than expected EPS, helped to lead the rally, with $AMZN trading over 13.5% higher.
Oil prices surge above $90, as Canadians protest vaccine mandate
Oil prices once again rose to a 7-year high, this time coming as Canadian truckers continued to protest the country's vaccine mandate.
Canada, which is one of the world's biggest oil exporting countries, passed a mandate, requiring that truck drivers be vaccinated to cross the border with the United States
As a result, thousands marched to the nation's capital to protest the mandate, which is now disrupting everyday life in the capital, and contributing to the rise in energy prices.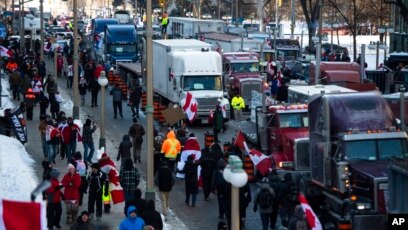 This comes as the mandate has caused a shortage of truck drivers, who are unable to transport energies, among other things, leading to a bottleneck in distribution, and in turn increasing the cost of goods.
WTI rose to an intraday high of $93.17 on the news.
"The feelings we accept and enjoy rarely interfere with trading."

-Ed Seykota.
---